About Us
Please refer to the attached file/document.
Japan Association of Energy Service Companies
(The activity of JAESCO / Membership of JAESCO)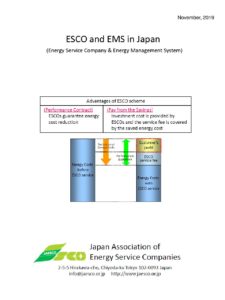 JAESCO Member Companies
This list shows only the JAESCO member company with the English version homepage.
Regular Members (in alphabetical order)
Daigas Energy Co.,Ltd.
ESCO CO.,LTD.
GUNZE ENGINEERGIN Co., Ltd.
Japan Facility Solutions,Inc.
KANDEN ENERGY SOLUTION CO., INC.
KS ENGINEERING CO., Ltd.
Starmaintenancesupport Co. Ltd.
VEGLIA Laboratories Inc.
YAMATO Inc.
Supporting Members (in alphabetical order)
Cenergy Co.,Ltd.
DAIWA ENERGY CO.,LTD
Earth Net Works Co.Ltd
Ebarashoji Co.,Ltd.
Ecoairsolution Co., Ltd.
Hasegawa Electric Industry Co., Ltd.
KAKIMOTO CO., LTD.
KINGRUN RENEWAL Co., Ltd.
Mitsubishi Electric Credit Corporation
MIWA TECH CO.,LTD.
Nihon Dengi Co., Ltd.
Nishinippon Environmental Energy Company
NTT TC Leasing Co., Ltd.
OMRON SOCIAL SOLUTIONS Co.,Ltd.
Onishi Shokai Co., Ltd.
OSAKI ELECTRIC CO., LTD.
SANKO AIR CONDITIONING CO.,LTD.
Shintou Co., Ltd.
Techno Planning Co,LTD
TIGER SOGYO CO.,LTD.
TOHO GAS Co., Ltd.
Toho Gas Engineering Co., Ltd.
Yashimakogyou Co.
Yonden Energy Service Co., Ltd.